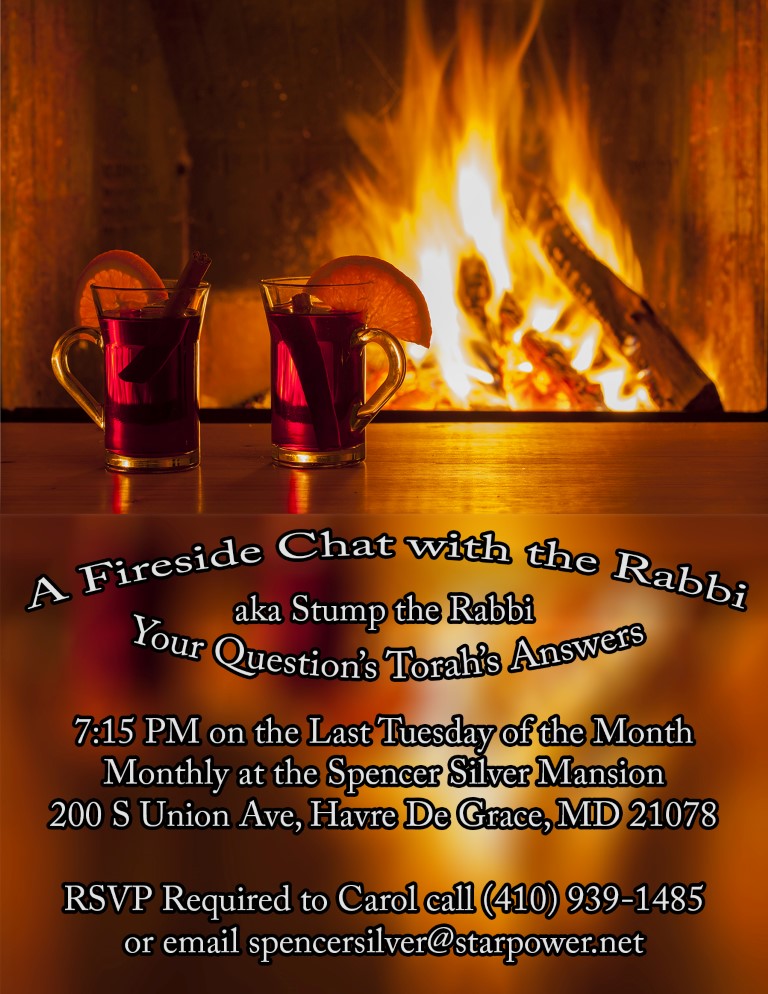 Upcoming Dates
Tuesday, January 31, 2017
Tuesday, February 28, 2017
Tuesday, March 28, 2017
Tuesday, April 25, 2017
Tuesday, June 27, 2017 
Some Suggested Questions: (include YOUR question in your RSVP email to Carol [email protected])
When are Jews allowed to divorce? What is the Jewish position on divorce?
Why are the Jews called the chosen people? What does this mean? What are the responsibilities of Jews?
According to Judaism, what happens when you break Jewish law and sin?
What are Jews required to do during the (10) days between Rosh Hashanah and Yom Kippor to truly repent for sins/transgressions? How do you know that you have done a good job on repenting?
What is the Jewish belief of afterlife?
Are the people that have passed still connected to us in some way? How do we know? It is okay in Judaism to seek connection with those that have passed away?
What does Judaism say about Angels and legions of Angels being sent to protect/guide us? What is their role in our lives? How do we deepen our connection with them according to Judaism?
What does Judaism say about Satan and Hell?
What does Judaism say about Jews that leave the faith?
What is Judaism's position on intermarriage between faiths?
What are practical day to day actions you can take to strengthen your walk with G‑d and to hear his voice and follow the steps you need to follow the path that G‑d has destined for you (Isaiah 30:21)?
What is Judaism position on prophetic dreams?
What are the Sabbath rules as in reform vs. conservative vs. orthodox? And who has the right set of rules because it is very confusing to Jews and non-Jews?
What does Judaism say about pre-marital sexual relations?
What is the Jewish view of Jesus?
According to Judaism, is there a beshert? And how do you know when you meet your beshert?
What is a Shidduch and is that how you get a beshert? When is it too late to connect with your beshert?
How do we pray for what our heart wants? Can you ask G‑d for anything? Do you beg? How do you trust him?
What are mitzvots? How can we serve others with mitzvots? Pay it forward? Any suggestions?
Why do so many Hebrew words end in "AH"? like menorah, yamalkah, bar mitzvah, rosh Hashanah, halavah?
Bonus Question:
Where is the best Kosher deli for cornbeef and rye near HdG? Do we have to schlep to Baltimore?
A Fireside Chat with the Rabbi
aka Stump the Rabbi 
Your Question's Torah's Answers
7:15 PM Monthly on the Last Tuesday of the Month
at the Spencer Silver Mansion
200 S Union Ave, Havre De Grace, MD 21078
RSVP Required to Carol
call (410) 939-1485 or email [email protected]