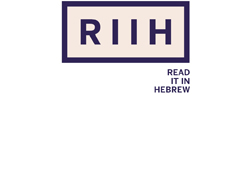 EVENT DETAILS
Join Harford Chabad for a 5-week Hebrew reading crash course for adults.
Read It In Hebrew (RIIH) is the name of the flash-card based course. The first two lessons focus on the letters of the Hebrew alphabet while the last three lessons introduce vowels and teach students how to read words. With flashcards portraying the letters alongside catchy mnemonics that make the information memorable and easy to digest, "Read It In Hebrew" allows students to absorb information quickly and efficiently.
The RIIH course, developed by the Jewish Learning Institute, promises users that they can learn to read Hebrew in only five weeks if they follow the program. 
Dates: 
September 12, 19, 26, October 3, 10
7:00 - 8:15 PM

Location:
Harford Chabad 
15 N Bond St 
Bel Air MD, 21014

Fee:$100 (Includes Flashcards- $35 value)