A Glimpse Behind The Lens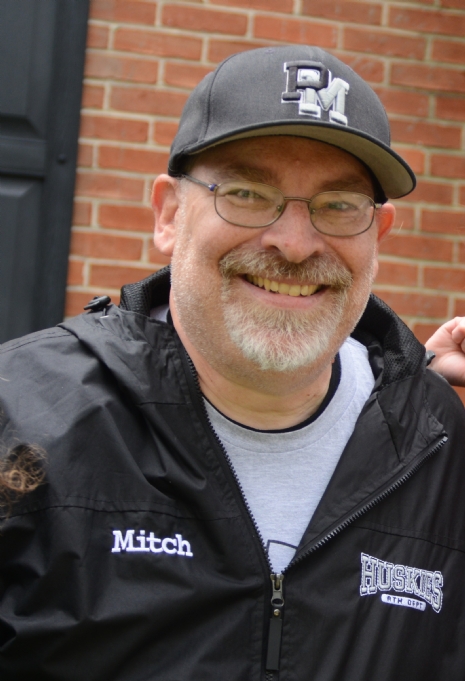 You may have seen his forehead, but probably not his eyes. This is the man you may know as Mitch the photographer!
Mitch is a photographer who is passionate about his creative work, he is someone who you wouldn't expect to see at Chabad.
You see, while Mitch was raised in a Reform home, and religious school, religion did not resonate with him! He was a teenager when stopped attending shul.
Life went on and all was well, but Mitch was disconnected from his Jewish roots for the most part. Judaism seemingly lost another soul, a soul that was disconnected where religion didn't resonate.
In 2011, Rabbi Kushi needed to make a yahrtzeit Minyan and reached out to Mitch, he messaged many people trying to ensure that he can pull together a minyan, after all it is traditional to say Kaddish to commemorate a yahrtzeit. Mitch decided to go, primarily because he was needed to complete the minyan, but maybe to experience the service as an adult as well. Lots can change from the perspective of a teenager to an adult with children of his own.
It was from that point forward that Mitch reconnected. He found a warm spiritual community where he feels welcomed!
He knew nothing about the Chabad-Lubavitch movement and stared inquiring among his friends and acquaintances, some of them knew nothing about Chabad and others said to expect a "high-pressure sales pitch." They are going to try to get you to become Orthodox.
In reality nothing could have been farther from the truth. No sales-pitch and not even a showroom, just a warm and inviting atmosphere of inclusion, engagement with Jewish education, and passionate spiritual leadership. He considers the rabbi to be a friend, "sincere, welcoming, encouraging, committed and knowledgeable," Mitch said. "I enjoy speaking with him and learning from him."
Mitch is an artistic person and wanted to support the work of the Harford Chabad to ensure that others had  someone to talk to, to have a community where they too can be welcomed, even if they had been disconnected for a while. He didn't have some "spiritual awakening" that day, but he got involved and volunteers his time and artistic skills.
Mitch is now connected, has coffee every now and then with the Rabbi and attends various events throughout the year at Harford Chabad, such as celebrations for Purim and Chanukah.
Mitch has reconnected with his Faith and his community that he was disconnected from for so long. Even though he doesn't consider himself "an active participant," as he doesn't come every week, the Rabbi considers him part of the community, knowing he will come when he can and whenever he is needed to take a photo or join a minyan.
"Having a place I can go and be accepted is a source of comfort to me," Mitch said, "and knowing there is a person in the rabbi to whom I can turn for counsel when I need it is the most important part of that connection for me."
After glimpsing behind the lens, you will find a Jew who encourages others to set aside what they may have heard, to connect and take the time to get to know the congregation and its rabbi.
As we finished off his story Mitch said, "I am the last person to tell another how to have a more meaningful life as a Jew, I too was skeptical when I was first contacted. Still, I met with the rabbi and found him to be engaging, warm, enthusiastic and genuine."
So, thank you! Thank you for reconnecting Mitch and many like him. Thank you for ensuring that when Mitch comes he is not judged, only welcomed in the warm embrace of the Jewish community.